Product Description
Prices include Tax 23% / SECURITY OF TRANSACTION guaranteed by Braintree Division of Paypal Company
CHEAP SHIPMENT / RETURN 14 days / THREE-YEAR WARRANTY / SERVICE
Bike for singletracks, tours and in enduro races
Sunrise … the smell of the forest, jump, sharp bands and fly over the rock section. This one sentence defines the passion that gives the ride on lightweight and agility Zumbi F11 27.5" – 100% Enduro. Feel the flow on downhill tracks and climb fast. This is the bike for you.
This BOS Edition bike series is equipped with the best BOS suspension to emphasize their uniqueness, and give the user a sense of pride. Each of these is delivered along with a certificate confirming its exceptional value. Engraved unique serial numbers indicates a short exclusive bike series. Moreover, fully hand- painted frame qualifies this bike to be identified as CUSTOM.
'It's a proper 'Rock And Roll' bike which loves to be thrown into corners and encourages you to late-brake everything'
Enduro MTB Magazine
RIDE ABILITY
Zumbi F-11 27.5" with 160mm of travel enables perfect tabletops and the drop with a smile on your face. This is an all-rounder bike for enduro and all-mountain. Race proven in the Enduro World Series and Mega Avalanche. High quality components from Raceface and Shimano, top quality BOS suspension with a perfect proprietary floating pivot suspension system (FPS) make this bike the ultimate ride machine, which will handle the roughest terrain with ease when exploring the World's best singletracks
Zumbi brings you confidence: perfect stability, agility on challenging tracks, joy ride and pride of having a bicycle labeled with an 'F' sign. Ride it uphill like a marathon bike, it descends almost like a downhill sled, giving the rider an unbelievable riding experience.
This gives the rider, an amazing feeling of freedom and the opportunity to such a ride, which has not been experienced so far.
GEOMETRY
The bike designed to meet the requirements of masters; everything is aimed at maximum control. Properly selected geometric parameters provide the perfect control of the bike, even in extreme ride on downhill tracks. After all, Zumbi was designed for the needs of racers who confirmed the sporty character of the bike winning numerous medals. Years of research on perfect geometry led us to obtain parameters that combine riding convenience and sporty character of models, labeled 'F' belonging to the mtb sports.
learn more about TECHNOLOGY // find out more about THE FPS SYSTEM // read more about  ZUMBI CYCLES
Frame
Alloy 7020 frame, 150mm travel
Fork
BOS Deville Rare 160mm FCV
Shock
BOS Kirk2 3 way 200mmx56mm
Handlebar
RaceFace Atlas Low Riser, 785mm, 31.8mm
Seatpost
RaceFace Turbine
Rear Derailleur
Shimano XT
Shifters
Shimano XT m 8000, 11
Cassette
Shimano XT m8000 11-42, 11
Crankset
RaceFace Turbine, 30 teeth chainring
Bottom Bracket
RaceFace Cinch BSA30
Tires
Continental Mountain King 27.5 X 2.4
Wheels
Race Face Aeffect 27.5″ Wheelset
Weight
13.4 kg, M size (12.9 kg – tubeless)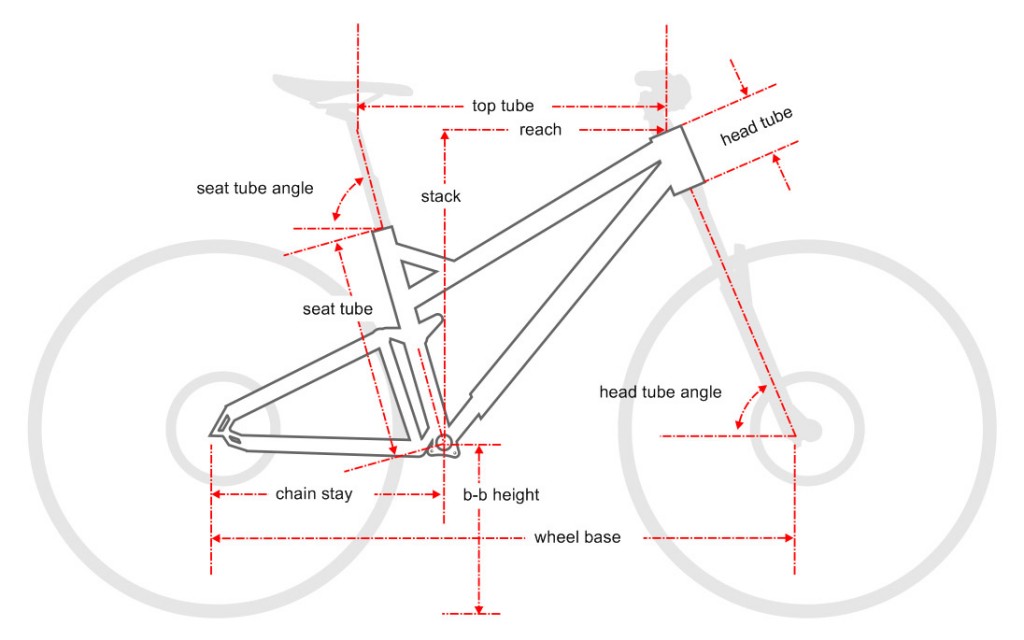 | | | | | |
| --- | --- | --- | --- | --- |
| | S | M | L | XL |
| Top tube lenght | 585mm | 600mm | 620mm | 635mm |
| Seat tube lenght | 420 | 444 | 470 | 495 |
| Head tube angle | 66 | 66 | 66 | 66 |
| Seat tube angle | 74 | 74 | 74 | 74 |
| Head tube lenght | 115mm | 115mm | 120mm | 120mm |
| Chainstay lenght | 441mm | 441mm | 441mm | 441mm |
| B-B height | 347mm | 347mm | 347mm | 347mm |
| Wheel base | 1155mm | 1170mm | 1190mm | 1205mm |
| Reach | 413mm | 426mm | 445mm | 458mm |
| Stack | 607mm | 607mm | 612mm | 616mm |
Floating Pivot Suspension System
We are proud to have designed one of the most unique and effective bicycle suspension systems for the most demanding hard-core riders on the planet.
The FPS suspension system uses four pivots, precisely calculated in positions which determine the start and end leverage ratios, wheel travel, and minimum influence of the suspension on pedalling and braking forces. The FPS system can be used on different types of bicycle frames from long travel DH/FR rigs through to all mountain and short travel enduro bikes.
Kinematics
The leverage ratio is slightly progressive throughout the suspension, making it sensitive to small bumps. It ramps up slightly in a linear way, which makes it resistant to harsh bottoming.
Hardware
All pivot points have through axles made from 6Al4V titanium or CrMo steel. All pivots rotate thanks to sealed ball bearings, which are oversized, making them resistant to all forces and riding conditions. Suspension links are CNC machined from top quality 7075 alloy. All these details combined guarantee extreme stiffness, which equals precise steering.
C.O.G.
Thanks to the position of the shock we achieve a perfect centre of gravity, precisely where it is supposed to be, directly under the rider and between the front and rear wheel, giving you a great feeling during cornering and jumps.
The FPS braking system stays fully active during hard braking even on big bumps.
SAMPLE SIZE
| | |
| --- | --- |
| FRAME SIZE: | HEIGHT |
| S | 166-178cm |
| M | 178-184cm |
| L | 184-192cm |
| XL | 193-201cm |
THREE-YEAR WARRANTY
The quality of our bikes is our top priority. That is why we offer a warranty totalling three years from the date of the purchase for all bikes and frames of the 2016 edition.
All terms and conditions are described in the user manual.
---
RETURN POLICY – fourteen days.
We do hope that your decision to purchase a bike was carefully planned and that you will want to keep it. We promise that in rare cases when the bike was not the one you wanted, we will help you return it without any complications. Please remember that our experts are at your disposal throughout the purchasing process.
Service
This is an incredible and prestigious service available to all of our customers who purchased a bike or frame. We give you the opportunity to change the image of your bike whenever you feel like it, but above all we take care of it and offer professional support service.
If you happen to replace the component in your timeless frame or just wish to repair it, even ten years from now- just send it to Zumbi. This is what the timelessness is about. Maintenance services are divided into paid and free ones, but our service is always there for you.
You can also use Shimano Service Center
Crash replacement
We understand that you push your bike to the limits, but accidents can happen. The warranty does not cover accidents. In such cases we offer a crash replacement program that allows you to obtain a new frame (without dumpers) or its parts in an inexpensive way. The option is available for the first owners of the bike and frames within three years of purchase.
Contact us, describe the crash and attach photos of the damaged frame. We will take care of your bike as soon as possible, so that you can further enjoy it.
We reserve the right to suspend this service in individual cases, if we determine that the damage was done on purpose.
Product Support
Option available for all of our clients. Our bikes are ready to be pushed to their limits, because they are supposed to give you a lot of riding emotion. Some frame parts wear out in a natural way, but you can buy spare parts in our web shop.