BICYCLE PRODUCTION TECHNOLOGY
Zumbi Cycles is a Polish bicycle manufacturer. Our technology and desire to create the highest quality bicycles has led us to success. At the beginning it was quality that challenged us. The quality, which in disciplines such as Enduro, Downhill, Freeride, XC and Trail / All Mountain, matters most. So we created the technology of bicycle frame production, using the best materials- those used in aircraft industry.

ALUMINIUM, ADRENALINE
In the world of today we no longer wish to ride bicycles mass produced in China but the high quality ones produced in Europe. Therefore, for the last 18 years our unchanging goal is to create the most enduring and valuable mountain bikes. For those who want to have a bike that, in the years to come, will keep its value, durability and unmatched riding flow -Zumbi is the best choice. This is our choice, which we have continuously followed since 1999. We created strong and unique production technology of Polish bike, the Zumbi. It can be defined by two words – POWER AND STRENGTH. Every Zumbi Cycles product is handcrafted for the sake of being timeless, since it is the timelessness that gives the product power and an extraordinary advantage. That's what customers of today expect from the goods they purchase.
CNC EVOLUTION
TECHNOLOGY THAT GIVE VALUABLE SECONDS
BEYOND ALL EXPECTATIONS
We have created brand new CNC elements that are used in the key parts of the Zumbi frame, lowering its weight, improving aerodynamics and sketching its new, timeless design.
BE SECOND TO NONE
The use of redesigned CNC elements results in greater lateral stiffness that is far beyond the standards of other bikes.
THIS IS IT
The high quality of Zumbi bike manufactured by top class CNC machines, which possibilities are beyond all limits.
AIRCRAFT ALUMINUM ALLOY 7020
BEST TECHNOLOGY FOR HIGHER DURABILITY
ACCELERATES THE PULSE
Aircraft alloy 7020 is a material with extremely efficient performance, while being exceptionally lightweight. Each Zumbi frame is manufactured completely from this alloy. Not without reason are Zumbi Cycles frames named F11, F22 and F44. The 7020 alloy is used for jets and spacecraft's construction.
MAN. MATERIAL. DIALOGUE
We do not interfere in the structure of the material. Owing to this, we obtain the highest quality and durability of our frames. From the dialogue with nature and technology we draw the best.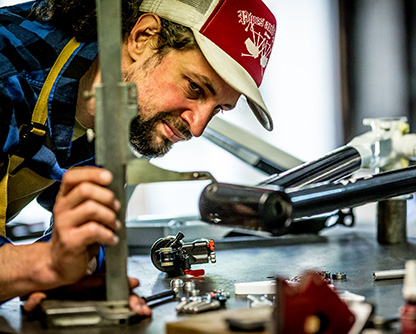 100% HANDMADE
CONCENTRATION, PRECISION, HEARTBEAT
CONCENTRATION – The details of each Zumbi frame are handmade and perfectly done. Precise movement of the human hands reflects lab and computer parameters.
PRECISION –Each frame is welded by highly skilled technicians. (Highly skilled technicians weld each frame) Intelligent combination of materials, quality control systems, adjusted working hours – in the hands of Polish craftsmen result in precise welds, which is the reflection of highest technology, quality and the art of welding.
ENGINEERING CRAFT AT ITS BEST – The frame and the bike are both manually assembled in our manufactory: Service Global Manufactor of Zumbi Cycles in Poland. By using the potential of human hands we can ensure authentic sensation of possessing the unique, perfect in every detail- the timeless Zumbi bike.
SILENCE –…and palpable heartbeat. This is what you feel while unboxing the Zumbi bike.
FPS SYSTEM
FLOATING PIVOT SUSPENSION TECHNOLOGY IN ZUMBI BIKES AND FRAMES
The passion for precision, combined with years of cycling experience contributed to the construction of one of the world's best mountain bike suspension systems- the FPS System. It uses four, perfectly calculated, pivot points that determine the initial and final leverage ratios; The FPS System stays fully active and isolated from braking and pedaling forces even on very hard terrain. Technology reduces to the minimum the possibility of losing precious seconds during a downhill race and fights for the podium.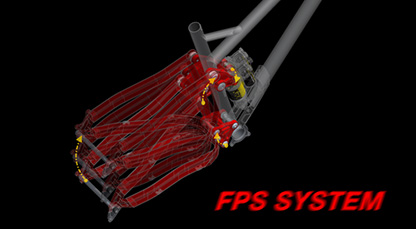 ZUMBI LAB
TIMELESS DAY AFTER TOMORROW
The lab engineers have constantly been working on creating new, sustainable, reliable and intelligent technologies. The bikes are developed specifically for the needs of racers in different cycling disciplines resulting in impressive construction efficiency and trophies won.

FT-GEOMETRY – THE BEST TECHNOLOGY FOR HIGHER DRIVING DYNAMICS! 
The latest research technologies carried out in cooperation with university research unit, the experience of our constructors, arduous tests conducted by racers and years of experience of the former racer and now creator of Zumbi Cycles were applied to create an ideal geometry for our frames and bikes. We combined the stability with the desire for peaceful and dynamic ride. The parameters are designed in such a way to enable perfect, sudden spurt. Polished scheme of particular tube length gives the opportunity to maintain a comfortable body position while all day or several days of riding. Low center of gravity keeps the speed and makes Zumbi perform perfectly especially at high speed. Optimally matched angles allow you to control the bike well in turns and fast downhills. All that makes you fully focus on your own style and joy of riding.
TECHNOLOGY FT-7020
The quality and durability of the material in the 'F' marked Zumbi bikes is our highest priority. Moreover, low weight is essential for riding dynamics and model performance, thus each time we conduct laboratory tests of the material to ensure pure 7020 alloy (high content of magnesium, crystal structure of alloy).
TECHNOLOGY FT-JET
Carefully selected aerodynamics solutions for our bikes; optimize, in particular while descending, the riding dynamics, stability and control of the bike. Reducing air resistance improves startup performance and comfort of ride. Since the mountain rider's profile has a significant impact on aerodynamics we provide laboratory consultations for the most demanding customers and racers.
TECHNOLOGY FT-FORCE
The effects of the above combine durability and efficiency. The innovative weight distribution with low placed centre of gravity guarantees the possibility of spontaneous reaction, offensive characteristics of agile ride and bump clashes. Balance of power technology, focuses the sum of internal and external forces affecting the bike while riding taking into account also the unexpected difficult obstacles and mistakes both experienced and novice mountain biker.
With the properly adjusted suspension parameters, the technology precisely leads the rider out of difficult situation on the route.
FT-PARTS
The bike designed for riding is maximum efficiency oriented: every high quality element- bolts, caps, bearings, tensioner or wheel axles provide perfect ergonomics and durability of frame even while extreme racing. Optional ceramic bearings, further reduce the bike weight and owing to corrosion resistance guarantee higher efficiency and even greater suitability for racing conditions. In addition, all Zumbi Cycles components and fastening parts are subject to serial anodizing process, which increases their durability and corrosion resistance.

FT-ANODIZING
Anodizing technology of aluminum 7020 frame is a electrochemical process, involving the formation of oxide layer on the frame and allowing penetration of chemicals along with the colour into the frame structure, increasing its hardness and resistance to damage. By adding the coloring additives to the electrolyte, the technology guarantees permanent and indelible color coating with special characteristic structure. On hitting the obstacle the color coating works with aluminum being the part of it. The fact that our frames are 100% made of uniform, expensive and most durable aluminum reflects and guarantees; elusive for others; perfect, uniform anodizing effect. This option is already available in standard version.
FT-PAINTING
Irrespective of painting method, whether serial or custom one, we use high durability paint while providing fantastic color effect. In modern Zumbi Custom paintshop, artists create high quality, time- consuming dream projects with extreme precision, care and passion. This is what the implementation of custom dream looks like. Get to know Zumbi Custom better.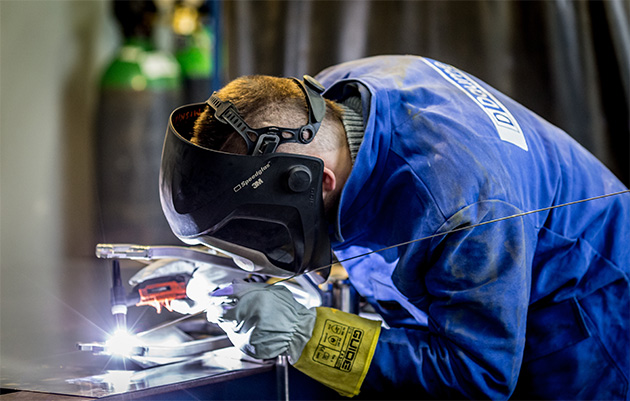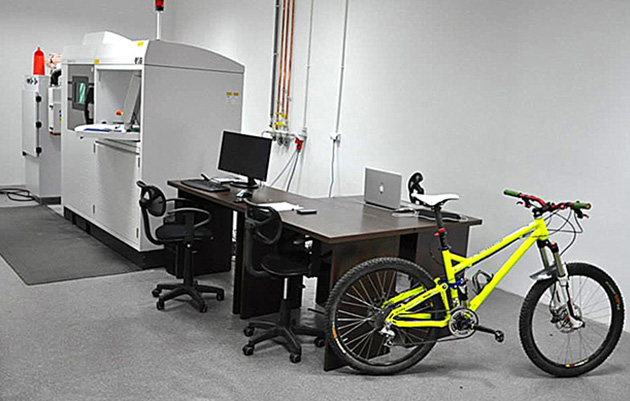 THE NEXT YERS
EVOLUTION IN SIMPLICITY
Every day Zumbi Cycles designers and technologists, absorbing the caffeine and progress, which is the best drive, work on creating modern but above all, timeless solutions. We create new products while being firmly rooted in the tradition of design, initiated by the Zumbi Cycles creator- Paul Matuszyński. We implement the latest technologies, such as BOSCH electric motors, and develop our ZUMBI CUSTOM BIKE department, creating bikes tailored to user's individual requirements.
EXPLORE THE POSSIBILITIES – ZUMBI CUSTOM BIKE
AND EXPRESS YOURSELF